Millions in the UK eagerly monitor the trends in house prices through monthly publications of House Price Indices (HPIs). These, without a doubt, generate headlines as they can be key to making decisions on buying or selling a property, and a resource for those who want to take stock of the UK's residential housing market. Economists track changes in HPIs to gain insights into the wider economy – for instance, the relationship between housing costs and income levels. Given that each index draws on different data and varies in methodology, it's important to consider a few different HPIs.
The most cited indices include the ONS, Nationwide, Halifax, and Rightmove. Some may additionally turn to lesser-known indices such as the RICS and Hometrack. As each involves different characteristics, this creates a mixed picture of the movement of UK house prices, as high-interest rates and mortgages weigh on demand and buyers' purchasing power.
The "best" UK house price index will depend on your specific needs and the scope of your analysis. Each index will deliver a specific purpose and has its strengths and weaknesses.
The table below will briefly illustrate the main characteristics of the following indices: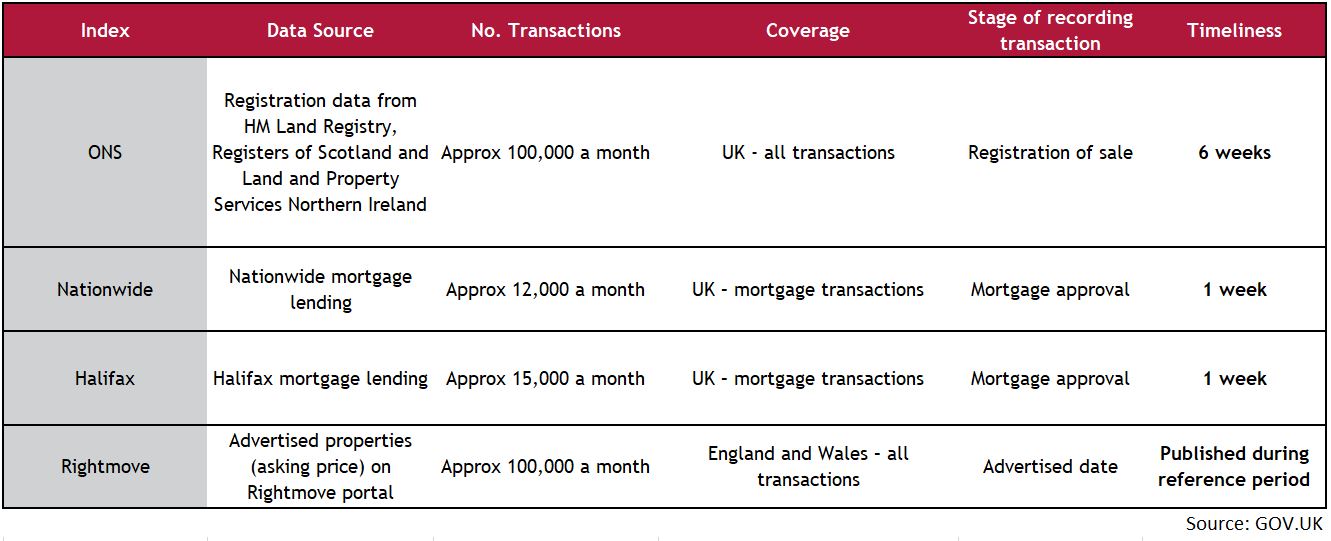 When using house price indices effectively, it's important to first consider each data source. The data source will profoundly impact the subsequent characteristics and interpretation of results. HPIs that are based on transactions tend to offer more accurate representations of the property values while asking price-based HPIs will present insights into initial listing prices and seller expectations. The number of transactions will directly impact its reliability, with larger transaction volumes tending to produce more accurate and market-representative results. It can also contribute to the timeliness of the HPI, allowing for more frequent updates and a faster response to changing market conditions. The coverage of HPI is a critical factor, as broader and more diverse coverage tends to enhance the reliability of the results and helps align with intended uses.
ONS
The ONS index is considered one of the most accurate and comprehensive indices for tracking house prices in the UK. It provides data on actual sold prices, including both cash and mortgage purchases - making it a reliable source for historical and current property values. However, it may not provide as timely data as some other indices, as reporting can lag. It's not seasonally adjusted, which means the data isn't adjusted to remove the influence of cyclical price changes that correspond with different times of year.
Nationwide
Nationwide, the second largest mortgage lender in the UK also publishes their monthly index. It provides a perspective on house price trends derived from their mortgage approvals (rather than completion) with data stretching back to 1952. However, this data can be relatively limited as it captures only 10% of the mortgage market and does not cover cash purchases.
Halifax
Halifax, the UK's largest mortgage provider, produces a widely referenced index with figures dating back to 1983. Like Nationwide's methodology, its monthly data release relies on its mortgage approval data and may not capture cash sales. They typically cover approximately 15,000 purchases a month, around a quarter of all mortgages. It is often used alongside Nationwide's index to provide a more comprehensive view of trends.
This index tracks the price of an average transaction, not the overall property market. Though the timeliness of this index is advantageous, its focus on Northern regions and potential sample errors should be considered.
Rightmove
Rightmove, a popular UK property website, offers a different approach to house price data. Unlike traditional indices, they release monthly data based on asking prices. This is one of the earliest stages in the home-buying process, which provides insights into initial property listing prices. This information can be valuable for understanding sellers' expectations. Rightmove is also the most up-to-date of all the indices, publishing estimates during the reference period. However, it's important to note that asking prices may significantly differ from actual sold prices, a factor not accounted for in their results.
In the medium term, house price indices are generally comparable despite their differences. This suggests that they could still be a useful indicator of consumer confidence across the country even at times of high volatility.
Combining data from multiple sources may provide a more well-rounded view of the market. When selecting a UK house price index, it's essential to consider your research objectives and the geographic area you're interested in. It's often advisable to use multiple indices in your research to cross-reference and validate trends, as each index may have its strengths and limitations.
Related Insights
Why is inflation so persistent?
What is the Consumer Confidence Index?