The saga continues and once again forecasters are wrong. The never-ending repeat headline; "MPC raises rates again" is a shoe-in for tomorrow, but perhaps a slight tweaking of the headline could occur. The likelihood of a 50 basis-point hike has increased dramatically after this morning's inflation release. With CPI inflation remaining unchanged and higher than expected, markets have reacted as expected and propelling expectations higher. The continued worrying factor though is also Core CPI, which seems to be relentlessly increasing.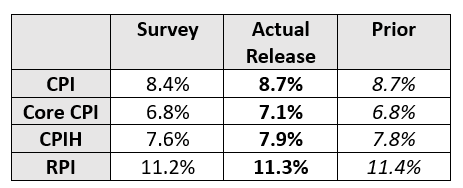 The core CPI figure is a 31-year high, which will drive the MPC into a more hawkish discussion. The inflationary pressure combines the energy price pressures felt by other European countries following the invasion of Ukraine, and the labour market shortages as seen in the US. However, in both scenarios the UK seems to have fared worse than its peers. The energy price shock may be fading; however, the tight labour market certainly isn't (highlighted by the record levels of migration).
Food & non-alcoholic beverages (2.08%), Housing, water, electricity, gas and other fuels (1.79%) and restaurants and hotels (1.27%) are again the largest contributors to the headline rate. Notably there were a series of surprises on the upside in health, communications, recreation & cultural services, and airfares (which saw an unusual jump of 20% in May and drove the annual rate of inflation up to 31.4% from 12.6% in April).
As a result of these heightened figures, the MPC will likely shift their position slightly, from a "regular" hike of 25 basis points to a gutsier 50 basis points. Would the MPC go further, for example a 75 basis point hike? Its unlikely, but it remains a market expectation that rates will continue to rise to a peak of 6% base rate. Will this level of base rate be enough to reduce demand and spending within the economy? Possibly, with mortgage rates having increased dramatically and 800,000 households expected to roll off a fixed rate between now and December 2023 there will most certainly be an impact.
Despite these lagged effects, the MPC have the unenviable position of making this decision now. Bring on tomorrow.