The 2021 census for the United Kingdom, aptly named 'Census 2021', will occur on the 21st March, less than three weeks away at the current time of writing.
The census for Scotland will take place in 2022 due to delays caused by the pandemic. The Office of National Statistics or the ONS, typically administers the census in England and Wales and the Northern Ireland Statistics and Research Agency does the same in Northern Ireland. For Scotland it is the National Records of Scotland who will be carrying out the 2022 census.
A census occurs every 10 years with the previous census being the first to incorporate an online aspect in which forms could be submitted online. Historically they were submitted via a paper form that would be delivered by enumerators in the week leading up to and before census night. The 2011 census included the option to complete the census form online and this led to roughly 15% of forms being submitted via this measure. There is hope that the forthcoming 2021 census will be conducted primarily online but preparations have been made to create 16 million paper questionnaire packs to distribute to those who cannot complete the form online or simply just do not want to. In saying that, the target for the census is to have an online completion rate of 65%. The same applies to the 2022 census in Scotland in terms of online completion.
What is the point of a census? Firstly, a census is hugely important to get a real view of what is going on in the wider economy and as the ONS puts it on their website, 'census statistics help paint a picture of the nation and how we live'. Secondly, we can compare different groups of people right across Wales, Northern Ireland, Scotland and England because the exact same questions are asked and the information is recorded in the same manner too.
The information that the census provides is hugely useful for central and local government and helps to determine what services and policies are needed, and where they will be of the highest benefit too.
Recent data suggests a fall in UK population numbers, which may have repercussions for economic performance.
The below table (information taken from the ONS website) gives a few examples of what the census is used to help decide.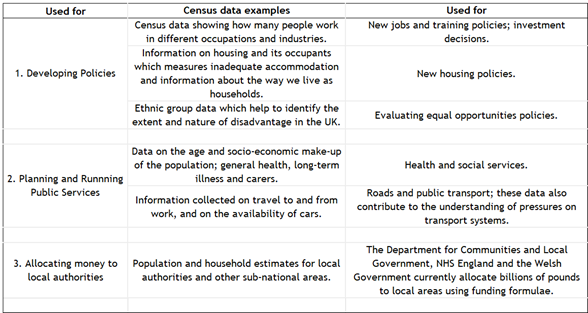 The last point is important as both central and local government want to ensure that they are allocating the correct amounts of money to the right areas. This can only be done by accurately counting the population and the census is vital in providing this information. This information then feeds back to the government and hopefully ensures a more efficient and beneficial offering of public services and policies.
Related Articles
The Economics of Lurking at Home